Zero Waste Ragin' Cajuns Gameday
The Fall semester means the return of one of our most loved traditions - Ragin' Cajun Football and tailgating! Our game day celebration is known for its great food and fun times. It is an incredible example of our Cajun culture and joie de vivre attitude, set amongst a backdrop of beautiful live oak trees. The spirited celebration continues inside "The Swamp" where fans cheer on our Ragin' Cajuns to victory.
The University loves hosting our family and friends for this celebration of football, food, and fun! We offer recycling at tailgating spots outside Cajun Field and at many locations inside Cajun Field and in Russo Park.  Student volunteers from our UL Student AmeriCorps program and various other organizations are available to educate fans about responsible materials management practices on gameday and help manage recycling and plastic bag recycling streams! At each game, unserved food is recovered and packaged at the Cajun Field's concessions and the excess food is donated to those in need in our community.
Volunteer as a Zero Waste Goalie!
Going zero waste is a team effort and is made possible by Gameday Goalies.  For more information about what it means to be a Gameday Goalie contact us at Zerowaste@louisiana.edu
Tips for fans:
Our goal is Zero Waste! You can help us achieve that goal by reducing your disposable gear and supplies, reusing what you can, and recycling everything possible. 
We have a single stream recycling program! That means all plastic bottles, aluminum, paper, and cardboard can go in the same can - no need to sort! Please make sure recyclables are clean, empty, and dry.
Outside the stadium green and blue carts will be in every tailgating spot, in high traffic areas, and at the entrance gates. GREEN carts are for RECYCLING. BLUE carts are for LANDFILL WASTE.
Inside the stadium you will find clearly marked RED RECYCLING and BLACK LANDFILL bins on the concourse.  Help us keep the stadiums clean and reduce our waste by using the correct bins.
Reuse those nice Ragin' Cajuns concession cups and don't forget to take them home with you!
Show our student volunteers and dedicated custodial staff your appreciation and Cajun hospitality! Staff and volunteers are working during and after the game to ensure all recyclable materials are send to the material recovery facility.
Gameday Bins in the Stadiums- Red Bins are Recycling

Tailgating Bins outside the Stadiums - Green Bins are Recycling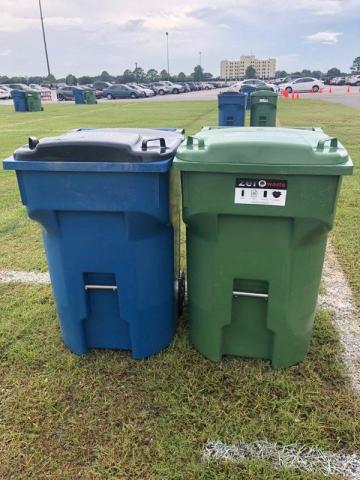 Thank you for helping us go for Zero Waste! GEAUX Ragin' Cajuns!