Hazardous Waste Disposal Request
Introduction
Hazardous waste is a waste with properties that make it dangerous or capable of having a harmful effect on human health or the environment. Hazardous waste is generated from many sources, ranging from industrial manufacturing process wastes to batteries and may come in many forms, including liquids, solids gases, and sludges.
In accordance with the requirements of the Resource Conservation and Recovery Act (RCRA), Title 40 of the Code of Federal Regulation (40 CRD) and the Environmental Protection Agency (EPA), the University of Louisiana at Lafayette is a responsible for the proper treatment, storage, transport, and disposal all chemical and solid waste that is generated on our campus and deemed hazardous.
Summary of the Federal Regulations
In compliance with the EPA's requirements for Small Quantity Generators, the Office of Sustainability conducts quarterly (every three months) hazardous waste collections via our contracted vendor, CLEAN HARBORS.
Requesting Disposal
The form only permits 20 submissions at once. If you are reporting more than 20 waste items, please create as many forms as necessary. If you believe your waste collection is excessive due to employee retirement, emergency disposal, etc., please contact Jonathan R. Brown, Sustainability Coordinator, at jonathan.brown@louisiana.edu to schedule a special collection.
Before submitting your Request Form, please be mindful of the following:
Only the waste that is reported will be collected on pick-up dates
If waste is in a drum or container that is more than 5 gallons, you may be contacted for more information (descriptions, use, and MSDS)
Waste is properly contained in a sealed container suitable for transportation (boxes, closed bottles, etc.) to avoid hazardous leaks or injuries

We do not provide containers and will not collect waste if the containment is not appropriate

Label waste (chemical name, start date of accumulation, pick-up date/your name)
Report specific location of the waste in the office/laboratory/closet/etc.
If you must make edits to your report, please contact Jonathan R. Brown, Sustainability Coordinator, no later than a week before the pick-up date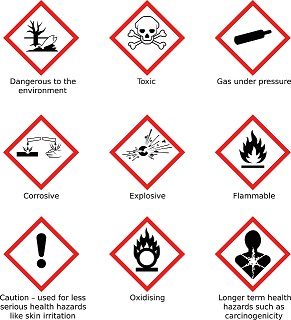 Definitions of terms may be found on the Code of Federal Regulations website.