We're committed to research for a reason.
Basic and applied research at the University level, and concomitant involvement in multi-institutional initiatives, are essential to the advancement of sustainability practices in Louisiana and similar communities worldwide.  The University is committed to supporting innovative, trans-disciplinary research programs in the sciences and engineering, architecture and design, sociology and humanities, and business and finance to inform campus operations, support the broader community, and advance the body of knowledge.
UL Lafayette specializes in applied research that solves real-world problems. That's why we partnered with Cleco, an energy company, to build an alternative energy center in Crowley, Louisiana. The Energy Institute is bringing together experts in engineering, biology, and other fields to improve existing technologies and use some of Louisiana's renewable natural resources to produce biofuels. It's also why some of our faculty members are studying the effects of the 2010 Deepwater Horizon oil spill in the Gulf of Mexico. What they learn may help mitigate the impact of future spills. In short, we make research relevant. With our wealth of expertise and top-notch resources, we offer everything it takes to awaken the change agent in anyone.  In short, we make research relevant. With our wealth of expertise and top-notch resources, we offer everything it takes to awaken the change agent in anyone.
We're hands-on.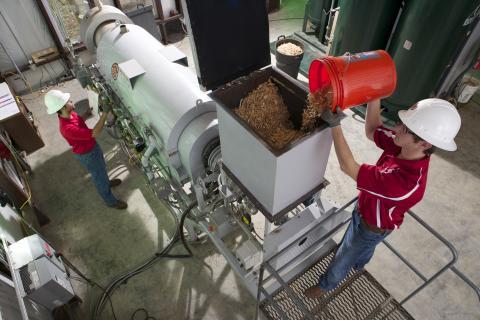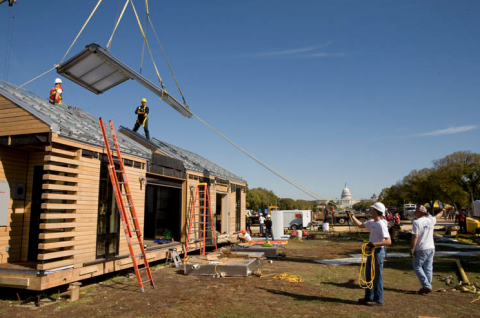 Both undergraduate and graduate students have the opportunity to make meaningful contributions to the world's body of knowledge. Sustainability, health care, new economies, new technologies, new processes, new products, new ideas—those are today's challenges. We're taking on these challenges and building research partnerships among university students, faculty, government research labs, and the private sector to effectively change the world for the better.
Academic College-based research institutes, such as the Building Institute provides students in the School of Architecture and Design a link between knowledge and understanding by providing a place for service-learning and building experience. The Building Institute has aimed to set a precedent for sustainability on a budget through design-build projects both on a national stage and right here in our local neighborhoods. The student-designed and built BeauSoleil Louisiana Solar Home won first place in the Market Viability competition in the 2009 U. S. Department of Energy Solar Decathlon, and earned the People's Choice award. The Building Institute faculty and students followed this with three market-rate, neighborhood infill homes that achieved sustainability standards such as the National Homebuilder's Green Building Standard or LEED.
We're eager to share what we are leaning.
Our research extends far beyond the classroom. For example, our Community Design Workshop helps cities and neighborhoods revitalize their communities. The Workshop is designed to educate the public about good community design and planning principles, such as complete streets, connectivity, and placemaking. Students and faculty have been engaged in many local planning projects, such has the I-49 corridor redevelopment and the bike paths on campus.
We work tirelessly to improve not just our local communities in Lafayette through education and active partnerships, but also our coastal region and even further beyond. That's why the Institute for Coastal and Water Research (ICaWR) was formed. The multidisciplinary research faculty and scientists of ICaWR address complex problems facing aquatic and coastal ecosystems, such as sea-level rise and the sustainability of habitats and communities throughout North America, from our own northern Gulf of Mexico to California and Florida.