UL's Montezuma Cypress Named Largest in State
The Montezuma Bald Cypress was declared a state champion during the November 16th Arbor day Celebration. Currently, the tree stands at 60 feet, has a circumference of 16 feet, and its branches spread 80 feet.
The tree is located behind Billeaud Hall, next to the greenhouse and a parking lot. The University plans to remove four parking spots and build a deck with seating around the tree's base. Doing this does not only creates a nice outdoor seating area but it also alleviates pressure that the concrete puts on the root system. With the removal of the concrete, the tree's root system will have better access to the necessary nutrients, water, and oxygen that the tree is currently cut off from. The Montezuma Cypress will be added into the Louisiana Forestry Association's Directory of Champions in early 2018.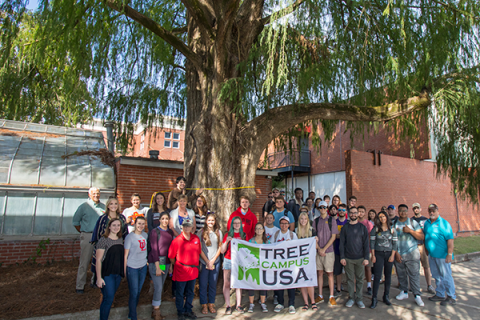 Students and facility gather around the Montezuma at the Arbor Day Celebration.
(Credit: Doug Dugas / University of Louisiana at Lafayette)