The Students for Sustainability will be making their return in Fall 2022. If you are interested in signing up please sign up through the microsoft form.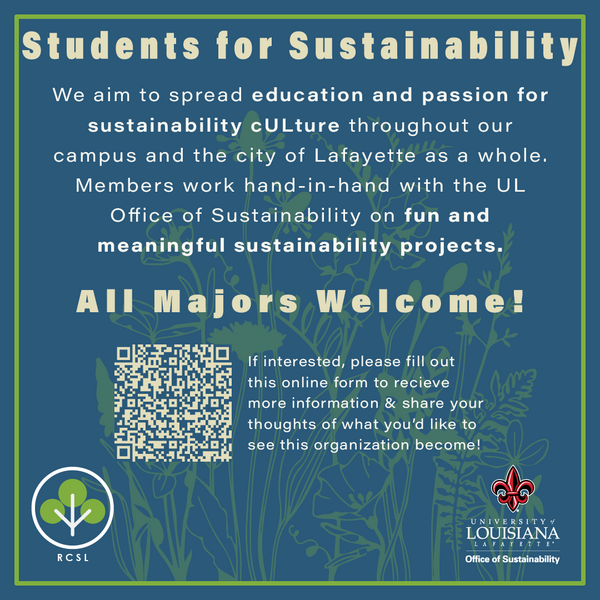 Alpha Zeta is a national honorary professional society of men and women in the natural resource sciences.  
AmeriCorps Community Service Program has over 500 members who have provided over 300,000 hours of community service to south Louisiana. AmeriCorps has been instrumental in improving education and housing, responding to disasters, and making community service a central feature of student life on the UL Lafayette campus.
Blue Key Honor Society dedicates its time and efforts to fulfilling the Blue Key Honor Society motto: Serving I live. Members are active in service both on campus and in the community.
CampusCats is an organization that improves the living of campus cats and community by promoting logical, compassionate, and ethical solutions, such as TNR (trap, neuter, and return, which includes medical treatment) and foster programs, both of which help prevent feral cat overpopulation, improved health of feral colonies, improved lives of stray cats, and provides a healthy educational environment for students and the public.
Geaux Bike is a social bike club that welcomes both novice and experienced bikers. The group is centered around making the University of Louisiana at Lafayette a biker-friendly campus by offering information sessions on bicycle maintenance, safety, and rules.  Members have an opportunity to unite as an organization, grow friendships, meet new people and explore the beautiful city of Lafayette.
Horticulture Club creates strong relationships among all students interested in horticulture and other areas of the Plant Sciences. The club goals include: promotion of horticulture at local, state, and national levels, and promotion of fellowship among students on professional and social levels.
Habitat for Humanity and the University partner to help develop communities for people in need by building houses in the Lafayette area.
Society for Peace, Environment, Action & Knowledge (SPEAK) is a student group involved in promoting environmental awareness and activism on the UL campus as well as in the Lafayette community.
Student Government Association represents students in matters pertaining to student welfare, student activities, student participation in University planning, and administration and student opinion.
Service. Outreach. Unity. Leadership. (SOUL) Camp is a unique experiential transition program for new students. The program is designed to provide additional opportunities for new students to build relationships with incoming and upperclass students, engage in community service, learn about campus spirit and traditions, develop an appreciation for multiculturalism and diversity, and discover their personal leadership skills.