Green Infrastructure Masterplan (EPA Campus RainWorks Challenge)
The Campus RainWorks Challenge is a green infrastructure design competition for American colleges and universities that seeks to engage with the next generation of environmental professionals, foster a dialogue about effective stormwater management, and showcase the environmental, economic, and social benefits of green infrastructure practices.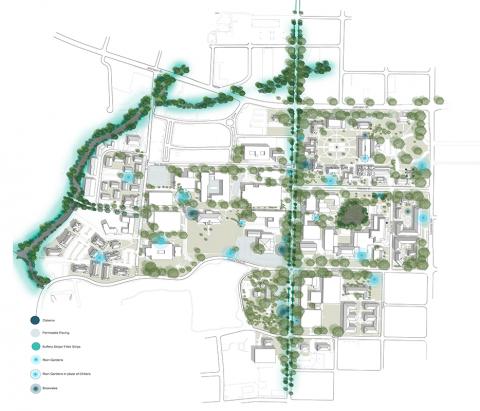 Project Name: THE RIPPLE EFFECT Community Cultivated | Regionally Replicated
Project Teams:
Student Team:
Blair Begnaud, Office of Sustainability G.A., Architecture Graduate Student
Meredith Guidry, Coastal Community Resilience Studio G.A., Architecture Graduate Student
Olivia LaHaye, Louisiana Watershed Center G.A., Civil Engineering Graduate Student
Lauren Lambert, Office of Community Service G.A., Architecture Graduate Student
John Oliver, Coastal Community Resilience Studio G.A., Architecture Graduate Student
Ivy Thibodeaux, Office of Sustainability Undergraduate Intern, Civil Engineering
Alex Trahan, Office of Sustainability Undergraduate Intern, Geology
Lead Faculty Advisor:
Kari Smith, LEED AP, Associate Professor, School of Architecture and Design; Coastal Community Resilience Studio Co-Director, Researcher for Louisiana Watershed Center
Faculty and Staff Team: 
Gretchen Vanicor, Director of Sustainability and Living Lab
Monica Rowand, Coordinator, Office of Sustainability
Joseph "Joey" V. Pons IV, Associate Director of Public Safety, Risk Manager
Mike Hess, Grounds Manager
David Yarbrough, Ph.D., Dean of Community Service, & Professor, Department of Sociology, Anthropology, and Child & Family Studies
Jim Foret, Instructor, School of Geosciences
Dr. Paul Klerks, Director of Ecology Center, Professor, Department of Biology
Andre Daugeareaux, Ecology Center Operations Manager
Project Narrative Abtract: 
The U.S. Global Change Research Program released "Volume II: Impacts, Risks, and Adaptation in the United States" from the Fourth National Climate Assessment (NCA4). It emphasizes that the threats to our natural, economic, and social systems are highly interconnected, and points out the critical need for regional adaption efforts to reduce our vulnerability. Many of the potential threats to the southeast region are already upon our communities, including increasing risks from extreme rain events and oppressive heat, and decreasing economic resiliency.
Our University, and especially our community, is hindered by previous decades of unsustainable development decisions. Grey infrastructure systems cannot adequately handle extreme rain events. Though Lafayette residents have a deep appreciation for nature, our urban areas lack green spaces that could provide eco-services and recreation opportunities.
Our team believes that when faced with extensive problems and limited resources, our solutions must provide numerous benefits. We are determined to view expected population and enrollment growth as an opportunity and the impetus to adapt with green infrastructure that will make our region more resilient and improve our quality of life.
The catastrophic flood of 2016 demonstrated that our region is not adequately prepared for the threats we face. However, the flood reconfirmed a deep-rooted trait in our culture – a resilient spirit, eager to collaborate for the greater good. Our goal is to use our campus as a living lab for developing site-appropriate green infrastructure strategies, and then engage our community and region to cultivate a ripple effect of resiliency. 
For the full Project Narrative Click here.
For the Project Video Click here.
Visit the EPA's Rainwork Challenge winners webpage here.