Sustainability Spotlight - Rhiannon Broussard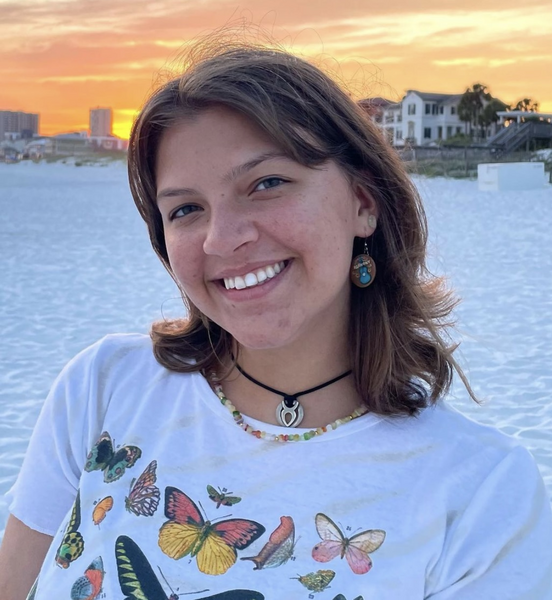 Meet Rhiannon Broussard, an undergraduate student at UL Lafayette studying Art Education. Rhiannon is involved in UL Lafayette's SAW, UL Ed Rising, IATG organizations and Rajun Cajun Catholics. Rhiannon has shown an exemplary commitment to living a eco conscious lifestyle and has just started a green small business in Lafayette called Funky Flares.
What is Funky Flares?
Funky Flares started as a creative project for myself and turned into a small business in a matter of days. We up-cycle jeans with vintage fabrics, trims, and other handmade embellishments, making them new with 70s flair! Our goal is to create something new out of something most people may see as old and/or not useable anymore.
What inspired you to start Funky Flares?
It started with a family friend suggesting I make 70s-inspired bell-bottom jeans or flared jeans. Because she knows I'm an old soul at heart! It turned into Funky Flares!
What does upcycling mean to you?
To me, upcycling means taking something or in this case clothes that most people would consider "the end of their use" or "out of style" and creating a new life for it and making it timeless. Thrifting has been in the rage these past few years. What used to be something uncommon, has now become a daily activity anyone can do.
What is your process for making the upcycled jeans?
I find second-hand jeans, brand does not matter, and insert fabric from thrifted clothing at the bottom to create the "flared" look. These can be done with any type of jeans, any size, any style. Then we make each pair of jeans more unique with trims, hand-crocheted embellishments, embroidery, lace, and anything else I think will make it funky!
Do you take commissions?
I do take commissions! Because our jeans are one of a kind, I understand that there may be a pair of jeans I make, that may be the perfect pattern for someone, but not in their size. I make it a priority to consider everyone, no matter the size or shape at Funky Flares. So, if someone has a certain idea in their head, they can give me their pair of jeans, and I make them flared based on their idea! They can give me the jeans, the fabric, or both!
Where are you selling them? / How can you be contacted?
I am currently selling from home/online. If you would like a pair of jeans you can message me on my Instagram page @funkyflares_ Hopefully in the future I can sell our flares at flea markets or small shops!
Are you have any other eco-conscious habits or hobbies?
I am very eco-conscious in my day-to-day life. I have always tried to recycle or reuse items since I was a child because it has always bothered me to waste something that can be used again. One action I have been doings cutting out single-use plates, zip locks, and plastic bags and bottles. I also use plastic-free toiletries, which have made a big difference. If there is a single-use item you use, there is no doubt you can find a reusable alternative!I I also have a green thumb, growing plants for monarch butterflies in my yard, and other native plants for the critters in our area. I also try to shop sustainably, making sure to stay away from big corporations and brands that do not consider sustainable living or practices.