Successful return of the Goodwill, not Landfill Campaign
With the 2022 Goodwill, not Landfill campaign we collected over 3,800 pounds of donated items from students during the Spring 2022 move out. By donating items and clothes to Goodwill, students diverted thousands of pounds from being sent to landfills for disposal. From May 2 to May 9, donation boxes from our sustainable community partner, Goodwill, were placed in the lobbies of the five residence halls (Coronna, Bonin, Baker, Huger, and Agnes Edwards).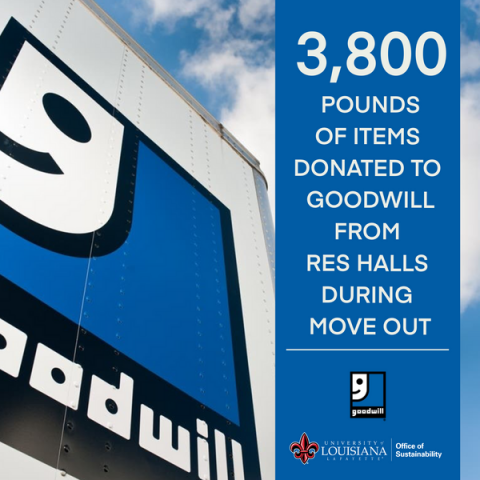 The following is a quote from our partner, Goodwill Acadiana, regarding the donation collection. "Because of these donations, someone will be able to earn their HiSET, a family will find affordable housing, relief will be offered in a crisis, and someone with disabilities will obtain meaningful employment."
We are thankful to our on-campus residents for their charitable donations. The "Goodwill Not Landfill" program will return at the end of the Spring 2023 semester. Please be on the lookout for goodwill bins in residential halls during move out time. We look forward to your contributions helping our community in the future!
Written by: Jonathan R Brown, Sustainability Coordinator