Student Organization Spotlight: UL Biology Society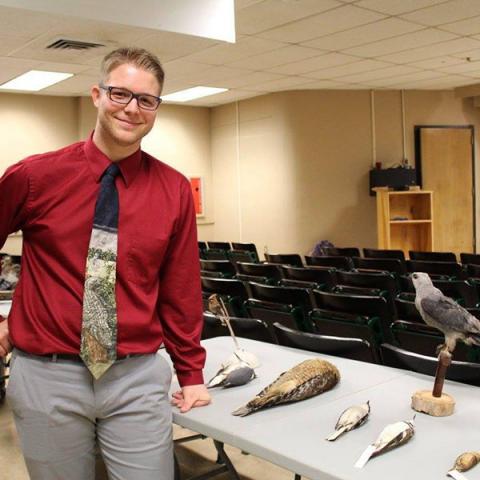 Meet Dylan DeRouen, an undergraduate student at UL Lafayette who is working on his biology degree. Dylan is the president of the UL Lafayette Biology Society, a student organization established to help students learn more about careers and studies in the ever-evolving world of Biology. The Biology Society's mission is to help students explore their interests in Biology while encouraging them to appreciate Biodiversity and Conservation. This organization has partnered with the Office of Sustainability on many occasions, and Dylan and the members of the Biology Society have been a crucial part in many sustainability-related events on campus!
Why did you get involved with the Biology Society?
I wanted to make a difference. Today's youth is probably more disconnected from the natural world than ever before. For example, Louisiana is known for its unique wetlands and rich Biodiversity, but most ULL students have never paddled in a real Cypress Swamp like Lake Martin. Some students can't even name our state bird or our state tree. I wanted to help reconnect students with Nature to show them that Biology and Conservation are both important and worthwhile.
Why is the Biology Society's mission important to our campus and to Acadiana?
Our mission helps instill an environmentally friendly mindset in students and in the community. It also helps inspire the new generation of biologists who may someday help restore Louisiana's Coastal Wetlands or help manage our Wildlife and Fisheries.
What have you learned from being part of this organization?
I have learned that no matter how different people may be from one another, when we come together and work toward a common goal, we can achieve anything. 
How has the sustainability community at UL Lafayette helped you with your efforts?
Sustainability and conservation go hand in hand. The Biology Society has partnered with the Office of Sustainability on many occasions. For Earth Day 2016 we put on the "Recycling Challenge," a recycling tutorial that helped teach students about materials that could/could not be recycled here in Lafayette and on campus. For the past two years, the Biology Society has also led recycling efforts at Festivals Acadiens et Creoles and Party in the Park. The Office of Sustainability has been a huge help for those events.
How can other students get involved in this organization?
Adding our Facebook group (UL Biology Society) will allow students to keep up with our events, but to become a member of the club, you have to attend a meeting and pay a small membership fee. Membership grants access to all our meetings and field trips. The society is not just for Biology majors—we welcome all Ragin' Cajuns who enjoy going new places, meeting new people, and getting involved in the community.