Recap: PlanLafayette Day - Sustainability from Campus to Community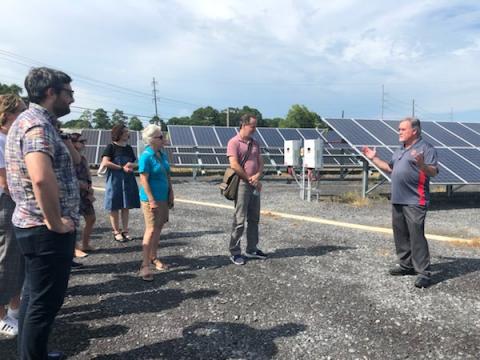 On August 1st, members of Ragin' Cajuns Sustainability Leaders attended PlanLafayette Day: Sustainability from Campus to Community where they met with key players in on-campus research, city government, and local organizations to discuss Lafayette's current and future strides towards becoming a more sustainable city. The UL Lafayette Office of Sustainability provided a fun and laid-back space to learn and grow together as Lafayette citizens. Presentation topics included composting, stormwater management, public transit, bike accessibility, electric vehicles, and photovoltaic energy.
The Day
PlanLafayette Day began with a supportive opening address given by UL Lafayette President Dr. Savoie followed by a presentation and discussion of the University's Sustainability Strategic Plan. This presentation, given by Director of Sustainability Gretchen Vanicor, highlighted the ambitious goals that the Office of Sustainability is working to achieve by the year 2021. It showcased both the success and lessons learned from certain efforts since the plan was launched in 2018.
After this first discussion, Alex Guillory, Owner and Principal at BlueWing Civil Consulting, LLC, gave a few inspiring words about the role of engineering in sustainability. Thanks to his company's partnership, a delicious and sustainable lunch from Good Eats Kitchen was provided to attendants. Keeping with the theme of the event, Good Eats Kitchen served all meal options in compostable containers with compostable utensils.
The program kicked back into gear after lunch with a discussion of the usage of UL Lafayette's campus as a Living Lab. Dr. Ramesh Kolluru, Vice President for Research, Innovation, and Economic Development, spoke of the exciting sustainability research being conducted on campus. Gretchen Vanicor praised the work of a team of architecture graduate students that earned national attention by winning the EPA's Campus RainWorks Challenge.
Next, Monica Rowand, Sustainability Coordinator, spoke of the growing role of composting in the University's waste management strategy.  The University ran a successful compost pilot at their experimental farm in Cade, Louisiana and will be expanding this fall. Bess Foret, Lafayette Consolidated Government (LCG) Environmental Quality Manager, closed the session with an overview of the work performed by the City to reduce waste.  She also announced a pilot project based off the University's urban prairie initiative where they will plant native Louisiana wildflowers in traffic medians to reduce mowing needs, grow native pollinator habitats, and capture more rainwater.
The day's next session focused on public transportation and city-wide mobility. Warren Abadie of LCG informed attendees of strides made by the city with regards to public transit, while Cathie Gilbert, also of LCG, outlined Lafayette's progress in biking and walking infrastructure. Acadiana Planning Commission's Chris Cole spoke of strategies the organization has put into place to help reduce traffic congestion and improve overall quality of life for the citizens of Lafayette.  Did you know that you can sign up to find a commute carpool partner through a portal called Acadiana Roadways?
PlanLafayette's last session of the day brought university advancements in alternative energy to light. Dr. Raju Gottumukkala gave an overview of current alternative energy research being conducted at UL Lafayette. Dr. Terry Chambers of the Energy Institute of Louisiana led attendees on a tour of the photovoltaic project known as the Solar PART Lab and a quick trip to see the newly installed electric vehicle charging station at Cajun Field.  This Level 2 ChargePoint station will soon be available for public use.
For some, the conversation continued at the Green Drinks mixer held at the Wurst Biergarten where attendees could reflect on the day's information and inspirations while exchanging ideas for further sustainable development of the great City of Lafayette.
Stay Involved
Like the page "Lafayette Comprehensive Plan" on Facebook to keep up with scheduling for the coming monthly installments of PlanLafayette events.  And as allows, follow the Office of Sustainability for all things sustainability on campus. 
---
Post written by Lauren Prudhomme, 5th year Chemical Engineering student and, President of Ragin' Cajuns Sustainability Leaders