Professor Spotlight: Dr. Jenneke Visser, School of Geosciences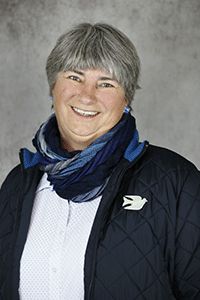 Dr. Visser began teaching at UL Lafayette in 2008 but has worked in and researched coastal Louisiana for more than 25 years. In addition to teaching at UL and serving as Associate Director of the Institute for Coastal and Water Research, she also chairs the Coastal Wetland Planning and Protection Act (CWPPRA) Academic Advisory Group. She has been an advisor on several coastal wetland restoration planning efforts and has made significant contributions to restoration outcome forecasting. 
Her research on preserving and restoring Louisiana's coastline is imperative when it comes to protecting the communities and wildlife along the Gulf of Mexico. The marshes and coastal systems along the Gulf reduce storm surge and help prevent flooding during storms, improve water quality, and are home to historical, hunting, and fishing sites.
Dr. Visser states that "Louisiana's coastline really supports the local economy as well as the national economy. Louisiana fisheries are the second highest fisheries after Alaska, and then there is all of the commercial activity on the Mississippi River," she says. "If we don't take action, we lose our coastline and we'll have a coast close to Baton Rouge." As a result, the importance of Dr. Visser's research can't be overstated.
She recently won the international Changing Course design competition with a team of engineers, coastal ecologists, architects, and geologists for their work on Louisiana's vulnerable coastline. Dr. Visser and her team, with whom she recently won the international Changing Course design competition, designed a plan based on a 100-year projection and determined that Louisiana has to focus on sustaining and building up existing marshes first. To accomplish that, a system to divert sediment should be located higher upstream in the Mississippi River, sending sediment to existing marshes instead of using it to build new marshes.
As a professor, Dr. Visser helps guide graduate thesis projects and gets undergraduates involved in research projects as well. For Dr. Visser's students, the coastline is their classroom:
"I really like to take them out there so they can experience the beauty of the coast as well as its bounty," she says. "I take them out on an overnight field trip, and we go crabbing so they can really get to see the productivity of the system. That's the fun part, but I also like to make them more informed citizens with respect to global sea level rise and the pros and cons of various coastal restoration methods. They generally love the field trips, of course, but they become more informed citizens and hopefully a few of them will find it interesting enough to choose coastal restoration as a career path."
Read more about Dr. Visser's award-winning work.
Parts of this blog originally appeared on the Graduate School blog.