Fête de la Terre Partner Profile: Republic Services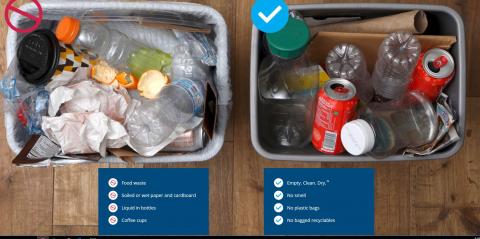 The Office of Sustainability is very fortunate to have Republic Services as the Official Zero Waste Partner of Fête de la Terre! 
Republic Services is a leader in the domestic non-hazardous solid waste industry providing services to commercial, industrial, and residential customers. Their notable and diverse services include curbside trash pickup, dumpster rental, bulk waste, recycling, hazardous waste, composting, and needle disposal.
Republic's main facility is in Phoenix, Arizona, but, fortunately, our local Republic hauling division is located right outside of Lafayette in Scott, Louisiana.  Republic operates 90 materials recovery facilities (MRF, or recycling facility) nationwide, including one in New Orleans and one in Baton Rouge (their newest Louisiana addition).  Recyclables from campus are taken to one of these two MRFs.  Waste from campus ends up at one of two landfills located in Sorrento and Welsh, LA.
Not only does Republic offer the traditional waste services, they go beyond the typical duties of a waste company.  In 2014, they introduced various sustainability programs throughout the entire company to guide every aspect of their business. At this time they set a goal to include an additional 150,000 tons or more per year of recycling capacity and reduce their vehicles' fleet emissions by 2018. They successfully achieved both and of these goals, reducing fleet emissions by 3%!
For baby greenies, Republic's Recycling Simplified campaign intends to help its customers better execute personal sustainable efforts. The campaign provides a simplified list for what can and can't be recycled and a guide for starting your own kitchen compost. This campaign makes people's lives easier since it simplifies the initially intimidating guidelines for what is recyclable and what is not.
Republic Services' facilities are stretched over 40 states. Even if citizens are active in sustainable efforts in their homes, how those products are processed when they leave your doorstep are most important. Republic is aware that they play a critical role in saving our planet which drives their passion in helping 14 million customers lessen their environmental impact impact everyday.
Republic Services is the Official Zero Waste Partner of Fête de la Terre.  Stop by their booth during the Fête de la Terre to learn more about Recycling Simplified and recycling services in the Acadiana region.
---
Post written by Tia Griffin, 3rd year Criminal Justice student and Sustainability & Service student worker