Student Spotlight: Jamillia McKinley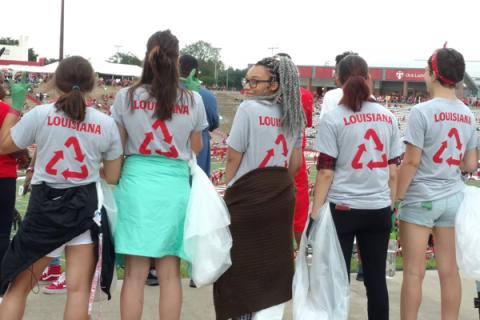 Written by Jamillia McKinley, Zero Waste/Sustainability Work Study
When I saw the ad to apply to a work-study position under the Office of Sustainability, I had no idea what to expect. I filled out the application anyways. My initial thought was that we were a group of campus beautification students, nothing more nothing less. What I encountered in the field was a pleasant surprise.
My first meeting with our leaders, Gretchen and Monica, was a whirlwind of information which I knew I'd only remember once I put actions behind the words. They informed me of the major projects we'd be working on – zero waste, sustainability mapping of the campus, bioswale projects – as well as a brief history of their time working with the university: where they were and where they are now. The passion in which they talked about what they have done, did, and will do was very refreshing. Their excitement made me excited. I was more than happy to jump on board.
Our biggest project is Zero Waste at Ragin' Cajun Football. It is an initiative to reduce, or completely nullify, trash at the football games. Most of the concessions items and their accessories, at the football games, are either compostable or recyclable. Compostable materials are organic materials that can degrade back into the soil in a relatively short period of time.
During football games, volunteers and work-study students act as Zero Waste Goalies. We educate people on what is compostable versus recyclable, and what goes in each bin. After the games, we sort through the compostable materials and make sure everything is truly compostable. Things that are trash, we discard of. Things that are recyclable, we recycle.
Beforehand, I thought I had applied to be a garbage man; however, coming in with an open mind, and being around people who are completely enamored with what they do and the impact they're making completely changed my attitude. Since then, I've worked two home games, 4pm-11pm. I would not trade the experience for the world. I've learned so much and gained such a broader view of how much we consume and how much we waste.
Through trial and error, as well as working hands-on out in the field, I've come to absolutely love my position as a work-study student through the Office of Sustainability.
Do you want to volunteer with us at a football game?  Sign up to be a Zero Waste Goalie here: http://bit.ly/ZWFBvol